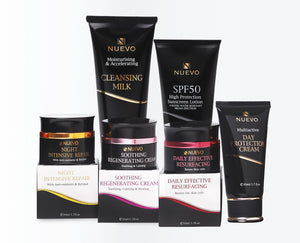 Acne treatment set
$48000

$480.00
Tax included.
Shipping
calculated at checkout.
---
The only acne treatment on the market that is 100% guaranteed. Made in Sydney by qualified clinicians with 30 years' experience.
Acne is clearly linked to natural hormone increase during puberty. These hormonal surges are known to cause an increase in the size and sebum output of the sebaceous glands in the follicles. As the skin sheds dead cells, a process called keratinization occurs, blocking the opening of the follicle. As oil production increases, pores become plugged. Bacteria thrive on the sebum in the plugged follicle and multiply. This condition makes itself manifest in the formation of small pimples. If the pores remain open, it leads to the formation of blackheads. If pores close, a whitehead forms. As the cane multiplies, the follicle can rupture, leading to severe inflammation and the formation of deep cysts.
Treatment of acne
Acne can be effectively treated, although response may sometimes be slow. Think back to 3 basic causes of acne and you can understand why the focus of both treatment and home care is to:
1/ Exfoliate dead skin to unclog the pores 
2/ Kill skin bacteria 
3/ Minimize oil 
Acne can be treated either topically or systemically.
Instructions:
AM:         Cleansing Milk  $65
                Resurfacing (once in the morning) $85
                Soothing (to sooth skin irritation during skin treatment) $80
                Day protection (can be used a few times per day to get more moisturiser and protection  $85
                Sunscreen SPF50   $70  
PM:         Cleansing Milk 
               Night intensive repair $95
To get a fully guaranteed result of acne treatment, it is recommended to use the whole set which is composed of 6 products.
 
Call (02) 9728 1972 or

 

click the "Chat With Us" button below to talk to one of our clinicians and you'll be automatically enrolled in our

 

Money-Back

 

Guarantee Program that

 

fully refunds your acne treatment

 

in the unlikely even that it doesn't work for you.